It has always been my private conviction that any man who pits his intelligence against a fish and loses has it coming. ~John Steinbeck

If you are looking for the premier spot to fish, drop a line from the Mexico Beach Fishing Pier at 37th Street or cast near the jetties located at Mexico Beach Canal Park. If you are over 16 and not a Florida resident, be sure to purchase a fishing license from either Marquardt's Marina, The Shell Shack or Cathey's Ace Hardware.
Charter a boat and let one of our professional captains guide you to some of the hottest fishing spots. Whether you go offshore or into the freshwater bayous and creeks, Mexico Beach has it all.

Check our Area Events for upcoming tournaments!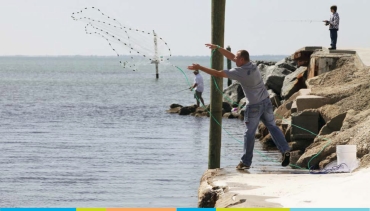 fish you might catch
(click to enlarge)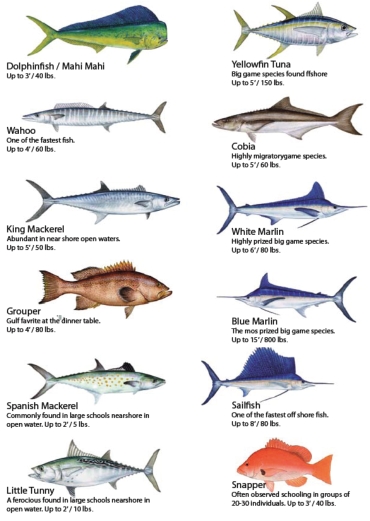 (click to enlarge)

Area Boat Ramps

View Area public boat ramps in a larger map



Fishing Charters
Apalachicola Charters
1695 Peachtree Rd,
Apalachicola, FL 32320
Phone: (850) 653-5028
eMail | Visit Website

Charisma Charters
P.O. Box 13335,
Mexico Beach, FL 32410
Phone: 850-648-8211
eMail | Visit Website

Lady J Charters
Located at the Port St. Joe Marina,
125 Barbara Drive,
Port St. Joe, FL 32456
Phone: 850-227-1200 | Visit Website

Liquid Addiction Charters
Port St. Joe, FL 32456
Phone: 850-899-0366 cell or 850-227-1249
eMail | Visit Website

Miss Mary Charters
P.O. Box 13682,
Mexico Beach, FL 32410
Phone: 850-527-6272
eMail | Visit Website

St. Vincent Island Shuttle & Fishing Charters
C-30B & Indian Pass Boat Launch,
Indian Pass, Florida 32456
Phone: 850-229-1065
eMail | Visit Website

Tom Cat Charters of Mexico Beach
205 Carolina Drive,
Mexico Beach, FL 32456-0186
Phone: 850-648-1251 Cell: 850-628-1252
eMail | Visit Website



Marinas
Captain's Cove Marina
1617 Grouper Avenue,
Port St. Joe, FL 32456
Phone: 850-227-3357
eMail | Visit Website

City Docks
P.O. Box 13425,
Mexico Beach, FL 32410
Phone: 850-527-7147/ 850-850-5700

Columbus Marina
295 Marina Drive,
Columbus, Mississippi 39705
Phone: 662-327-8450
eMail | Visit Website

Marquardt's Marina
P.O.Box 13117,
3904 U.S. Highway 98,
Mexico Beach, FL 32410
Phone: 850-648-8900
eMail | Visit Website